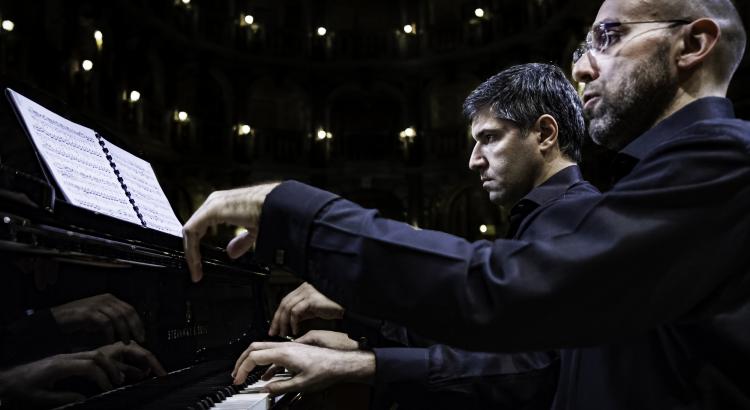 THE ARTISTS
Duo Schiavo-Marchegiani
---
The Schiavo-Marchegiani duo is appreciated by audiences and international critics for its very personal style, the beauty of its sound and the intensity and overwhelming energy of its interpretations.
Parallel to their intense solo activity, Sergio Marchegiani and Marco Schiavo have formed one of the most active and dynamic piano duos on the Italian and international scene since 2006. They have given numerous concerts all over the world and have performed in the most prestigious halls such as the Great Hall of Carnegie Hall in New York, the Great Hall of the Philharmonie and Konzerthaus in Berlin, the Golden Hall of the Musikverein and the Great Hall of the Konzerthaus in Vienna, the Mozerteum in Salzburg, the Laeiszhalle in Hamburg, the Beethoven House in Bonn, the Rudolfinum and Smetana Hall in Prague, St. Petersburg, the Suntory Hall in Tokyo, and the Semperhalle in Vienna. Petersburg, Suntory Hall in Tokyo, Teatro Solis in Montevideo, Teatro Petruzzelli in Bari, but also in Rome, Paris, Zurich, Sofia, Istanbul, Helsinki, Moscow, Montreal, Washington, Mexico City, São Paulo in Brazil, Baku, Astana, Hong Kong, Bangkok, Singapore, etc.
They performed as soloists with world-renowned orchestras such as Berlin Symphony Orchestra, Budapest Symphony Orchestra, Prague Radio Symphony Orchestra, New York Symphony Orchestra, Mexico State Symphony Orchestra, Istanbul Symphony Orchestra, Mexico City and Madrid Chamber Orchestras, Prague Chamber Orchestra, Azerbaijan State Philharmonic Orchestra and Thailand Philharmonic Orchestra. In 2013, they debuted at the prestigious Ravello Festival with Mozart Concerto for Two Pianos and Orchestra K 365 and in 2017 they performed at the Sala Verdi of the Milan Conservatory as part of the concert series "La Società dei Concerti".
They have recorded for national radio and television stations in Italy ("Il concerto del mattino" on RAI Radio3), the Czech Republic (live nationwide on the third radio channel from the Dvořák Hall), Germany, Bulgaria, Russia, Mexico and Hong Kong.
The duo made its recording-debut in 2014 with a Decca CD entirely dedicated to the music of Franz Schubert.
They have studied with world-renowned professors such as Ilonka Deckers Küszler, Alexander Lonquich, Bruno Canino, Franco Scala, Aldo Ciccolini and Sergei Dorenski. They teach at the conservatories of Alessandria and Potenza and are frequently invited as jury members in international competitions. They also give master classes all over the world (Spain, Serbia, Turkey, USA, Mexico, Kazakhstan, Japan, Australia, Brazil, etc.).