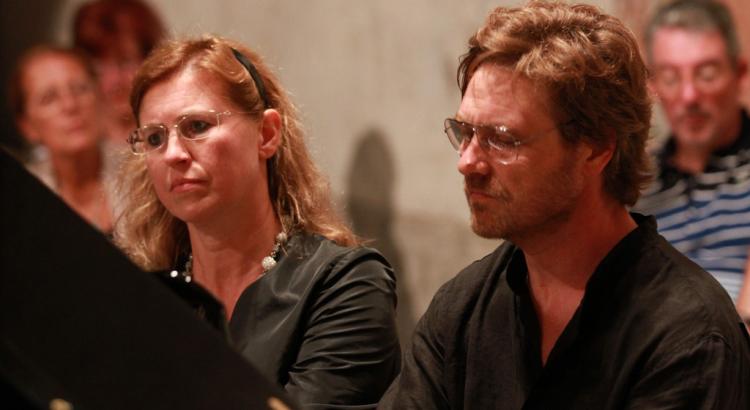 THE ARTISTS
Nicora-Baroffio
---
Chiara Nicora.
After studying at the Music School of her town, she achieved her degree in piano at Conservatorio "L. Cherubini" in Florence with honors. She graduated with honors in disciplines of Art, of Music and of Entertainment (DAMS) at the University of Bologna. After that, she attended piano master classes given by S. Perticaroli A. Lonquich, L. Romanini and M. Mika. In 1993 she graduated in harpsichord under the guidance of Laura Alvini at Conservatorio "G. Verdi" in Turin and attended courses and seminars about fortepiano, harpsichord and chamber music, given by C. Banchini, R. Gini, M. Henry and E. Fadini.
She performs both as pianist and harpsichordist in concerts, and also collaborates with various groups and chamber orchestras such as the Trio Benedetto Marcello, the Baroque Orchestra of Bergamo, Milano Classica, the Guido Cantelli Orchestra, Chorus and Orchestra "Ars Cantus," Frau Musika , "The Musical Journey", I Solisti di Pavia, the strings Ensemble Concertante of La Scala, with all of which she played in various Italian cities and abroad, also as soloist . She collaborated with E. Dindo, P. Borgonovo, F. De Angelis, F. Blond, O. Dantone, C. Chiarappa, M. Fornaciari, M. Mecelli, B. Horse and she played in a duo with L. Alvini. She recorded for labels Bongiovanni, Map and Frame playing on original instruments. She worked as an accompanist at the Conservatorio of Lugano in the violin class of C. Chiarappa and she works as instrumental accompanist at the Conservatorio "G. Verdi" in Milan. In duo with Alessandra Molinari she was awarded the scholarship launched by the Cini Foundation in Venice within the master course dedicated to the chamber romance in the age of Vincenzo Bellini. She graduated in Music Therapy at "La Cittadella" in Assisi and she is currently teaching. She achieved the second level degree in piano at the Conservatorio "G. Verdi" in Milan. She is currently teaching piano at the Conservatorio of Novara. She is artistic co-director of "Interpreting sounds and places", co-financed by the EU.
She recently published the book: "The music of the angels: a musical journey through the churches and chapels of Varese and Sacro Monte", published by Benzoni.
FERDINANDO BAROFFIO began very young his piano studies and earned his undergraduate degree from the Conservatorio "G.Verdi" of Milan under the tutelage of Lina Bodini Mazza.
He then took part in the three-year masterclass of Accademia "G.Marziali" of Seveso held by Bruno Canino and collaborated with the chamber music classes of M. Sirbu, C. Chiarappa, D. Shafran, and G.Cambursano. In 1993 he took part in the piano Maisterklasse at the Conservatory of Berna and in the piano perfectioning class held by Pier Narciso Masi.
Prize winner of many national and international competitions, Ferdinando often plays both as a soloist and in chamber ensembles in many Italian and international music festivals organized by prestigious associations (G.0.G., Gioventu Musicale, Musica Rara, Incontri col Maestro, Asolomusica, Agimus, Schlosskonzerte-CH, Adiam-FR, La Biennale di Venezia, Asam, Settimane musicali di Stresa, Musikverein Vienna).
He appeared in a live tv programme for RAI, the Italian state television, playing with the Cello player Ofra Harnoy. He took part in the performance of Prokotie'v's complete sonatas at the Settimane Musicali di Stresa, and performed the Fantasia-Corale op.80 by L.van Beethoven for piano, choir, and orchestra in the "G.Verdi" hall of the Conservatorio of Milano.
Since 1994 he's involved in computer multimedia, audio editing, and has performed as artistic director in several CD recording. Since 2005 he has been collaborating with some theatrical productions writing original music for several plays: "Sarete miei testimoni" for the Vaticane productions, "La Bottega dell'Orefice" by K. Wojtiya, "Mela" by D.Maraini for the Filodrammatici theater in Milan, "Etty Hillesum, cercando un tetto a Dio","A Midsummer Night's Dream" by W. Shakespeare, "Stabat Mater" by T. Scarpa (Strega 2009 Price winner, Filodrammatici theatre in Milan), and "Avevo un bel pallone rosso" by A Demattè (Riccione 2009 Price winner, Teatro Stabile Bolzano). He wrote the music for the gala evening held in occasion of the Italian Constitution celebration anniversary in the "Sala dei 500" of Palazzo Vecchio in Florence at the presence of the Italian Republic President, and broadcasted live by RAI 1.
He teaches piano at the Civico Liceo Musicale in Varese.

The Nicora-Baroffio duo has been active since 1993 and, in addition to the traditional repertoire, is dedicated to transcriptions of the author, especially in the nineteenth-century. He has performed numerous concerts in Italy, Croatia, Germany, France, Spain, Romania, Poland, Switzerland with public and critical acclaim, also as soloists with orchestra.