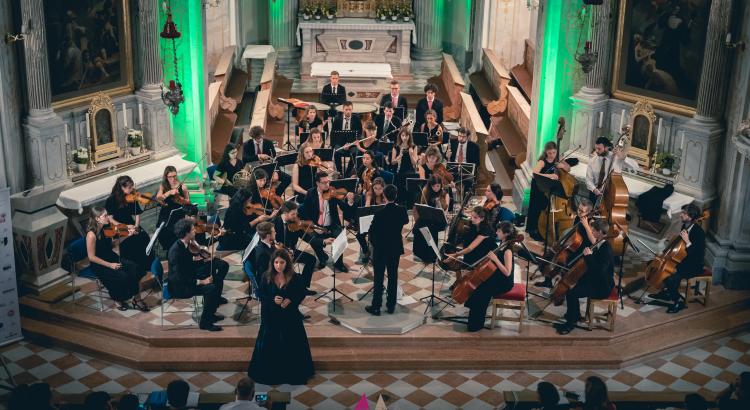 ALPEN CLASSICA
Euregio symphonic orchestra academy Alpen Classica
---
Who is part of the project?
A further big goal of the festival is to establish a valuable collaboration between the students and all young musicians from musical institutions of the 3 regions and the three Euregio conservatories: the Trento conservatory, the Bolzano/Bozen conservatory and the Innsbruck conservatory
What is the orchestra project about?
The 6-day project includes the participation of students who will be chosen by the three conservatories and the organizers. They should play together as a symphonic orchestra conducted by a young conductor. This year's conductor will be a person from Tretino; in the following years, conductors from South Tyrol and Tyrol should take on this function. This way, the festival will include the participation of young conductors from all of the three regions. On the last evening, the orchestra will play a concert.
The participating musicians will get the chance to work together and to experience a musical and cultural exchange, as it has never taken place in these regions before. The goal of the festival is, therefore, to promote the establishment and further development of a classical music scene in this new historical, musical and cultural spirit of time.
The orchestra will work on the repertoire with the conductor and the instrument teachers for a week and by doing so start a new era of performing and participation in music events in the whole Euregio.
When does the project begin?
The orchestra project will last 24th-30th July 2023. The participants will meet in the morning of the 24th. July and in the afternoon the first rehearsals will take place. In the mornings, the instrument groups will rehears separately, in the afternoons all instrument groups will rehearse together. At the end of the week the orchestra will perform 3 concerts.
The goal of the orchestra lab
The goal of this project is to promote a performance ready orchestra; not only in the Euregio, but also internationally.
How can I apply?
Please send an e mail to :
info@alpenclassicafestival.com
Please write in the e mail the following informations:
Name
Familyname
Year of Study
Instrument
Teacher
Age
Mobile
E mail adress
DEADLINE FOR THE APPLICATIONS: 10TH OF JUNE 2023