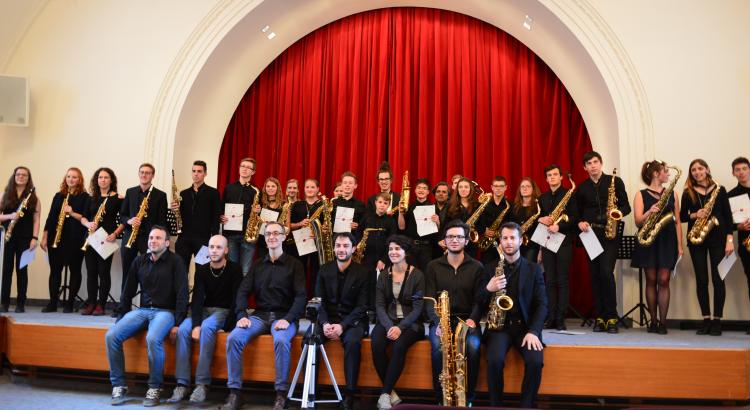 ALPEN CLASSICA
Saxfest Innsbruck 21-23 Aprile 2017
The first Euregio Saxophon Festival
---
From the 21.st to the 23rd of April The Alpen Classica festival in collaboration with the Landeskonserwatorium Innsbruck and the Professor of Saxophon Michael Krenn, presents the first euregio saxophon Festival in Innsbruck. In these three days the saxophonists will experience a festival entirely dedicates to the instrument invented by the Belgian Inventor Adolphe Sax. The fesival organizes three days of Masterclasses, teahcers concerts and a closing students concert. Moreover on the morning of the 22nd different saxophone and reeds manufacturers will present their products through different workshops, explaining their technical stages of manufacture.
Professors
Michael Krenn (Landeskonserwatorium Innsbruck)
Massimiliano Girardi (Conservatorio A. Bonporti di Trento)
Damiano Granndesso ( Italia)
Stefano Papa (Italia)
Livia Ferrara (Italia/Francia)
Goran Iurkovic (Croazia)
Janez Ursej (Slovenia)
Iukiko Ywata (Giappone)
Concerts
The first concert of the festival will be performed by the Milano Saxophone Quartet after the opening workshop in the afternoon.
The quartet will present its last project related to their cd called MUSICA FICTA. This is a project dedictaed only to Italian Music woth works by Scarlatti, Verdi, Rossini and Malipiero
The second concert will be at the Landeskonserwatorium Innbruck and performed by the Mobilis Saxophone Quartet and by the Austrian saxofonist and Professor at the Landeskonserwatorium Innsbruck Michael Krenn in Duo with the pianist Eugenia Radoslava.
The last concert is dedicated only to the students who will partecipate to the Masterclass at the Ursulinensaal in Innsbruck.
MASTERCLASS COSTS
Euregio SaxofonistS and students:
Individual Lessons: 100 euro
Quartet Lessons: 250 euro
NON EUREGIO saxophonists and students:
Individual Lessons: 150 euro
Quartet Lessons: 300 euro
ACCOMODATION
There will be different accomodation near the Landeskonserwatorium. The costs will be between 21 and 40 euro a day breakfast included.
APPLICATION
Please send an email to: info@cross-border.it (the answer will have all the attached forms needed)