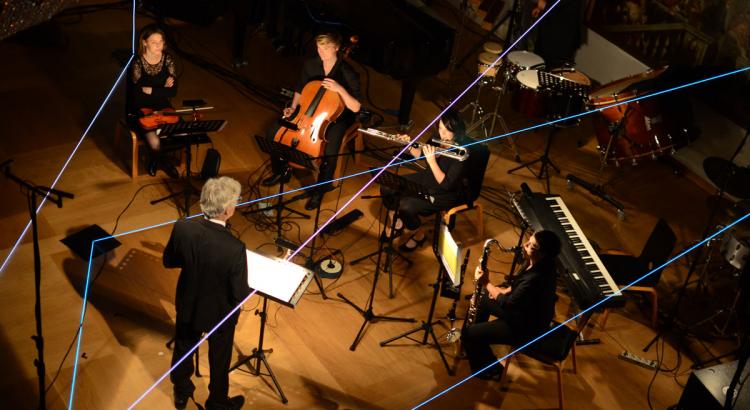 Chromoson was founded in 2014 by former members of the International Ensemble Modern Academy in Frankfurt/Main Carolin Ralser and Philipp Lamprecht, and by the composer Hannes Kerschbaumer. The group is committed to contemporary music and art, educational activities and collaborations with other art forms, such as visual art, dance and theatre. chromoson is also developing a strong focus on international exchange with artists all over the world. The members of the ensemble completed their education at the most prestigious music universities in Europe and have performed as soloists and members of internationally renowned groups at concerts and festivals around the globe.
One of the outstanding performances the ensemble gave so far is the cooperation with the sculptor Peter Senoner on a concept by Hannes Kerschbaumer: 'Parasonore Andockung'. Another highlight was the collaboration with stage designer Johanna Ralser, centered around her installation 'triptychon', both of them were premiered at the Transart Festival Bolzano in 2014. Pieces written by emerging composers, compositions by the members of the ensemble and innovative improvisation concepts enrich the repertoire of the ensemble.
The ensemble had its debut at the Transart Festival Bolzano 2014, under the direction of the Dutch contemporary music specialist Lucas Vis. Furthermore, chromoson ist the ensemble in residence at 'HÖRBAR! Tag der Neuen Musik', and has been drawing attention with their innovative performance formats, such as AERIA and RESPIRO auf sich aufmerksam. The ensemble particularly focuses on exploring the musical extremes of des 20./21.Jh., which led to the recording of Sciarrino's masterpiece 'La perfezione di uno spirito sottile' for the Italian RAI and to the intense collaboration with the Austrian composer Klaus Lang for the project 'Frozen Time'.
Chromoson is also the ensemble of the Austrian Hongkong Composers Connection, an intercultural platform for young musicians and composers from those two areas. Successful performances at the Hong Kong Arts Center, the Hong Kong Institute of Education, the Free Space Festival Hong Kong with world premieres of Austrian and Hong Kong composers, as well as composition and creativity workshops at the Hong Kong Institute of Education, have shown this cooperation to be an extraordinarily fruitful one.